The Architecture Campus of the Politecnico di Milano, inaugurated in 2021 in the presence of the highest offices in the State, originates from an idea by Renzo Piano, which was donated to the Politecnico di Milano and developed by ODB-OTTAVIO DI BLASI & Partners to rethink the via Bonardi spaces, adapting them to students' needs and to the open, international and innovative spirit distinguishing the Politecnico University.
The project was marked by the erection of 4,200 m2 of new buildings which, starting below the street level, rise up to 3 floors above ground, hosting the Aula Magna, multifunctional classrooms, spaces for teaching and laboratories for Architecture.
Here, some hundreds of ScreenLine motorised Venetian blinds have been installed within Schüco façades consisting of specially extruded transverse-mullion system with minimalistic profiles.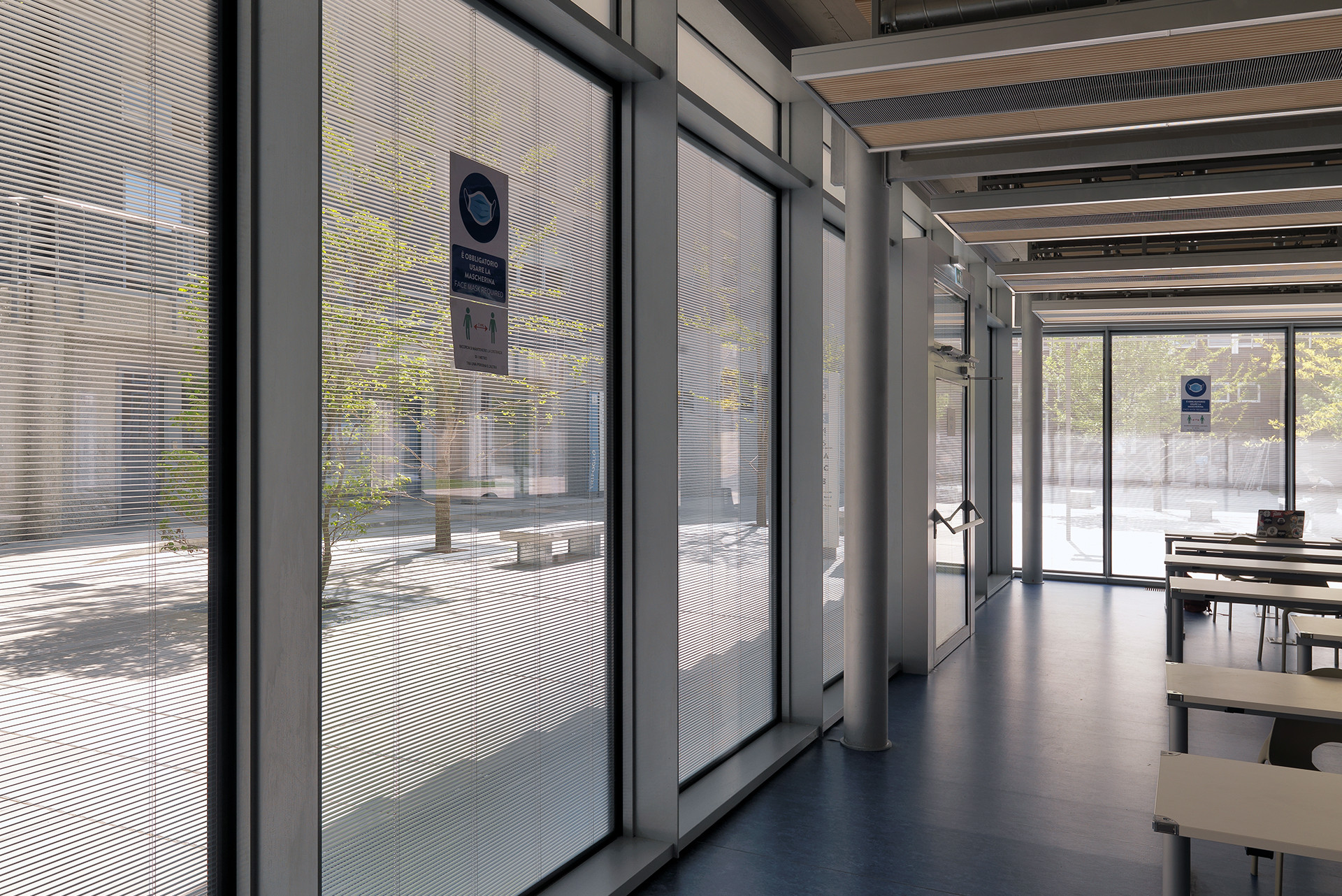 All the solutions adopted are the result of a specific research and development path, a multi-handed work between Pellini, the architectural practice and the façade maker to balance aesthetic, intended use and energy performance requirements. An example of this is the will to go beyond the assessment of product performance on its own as a way to comply with regulatory requirements, implementing instead an integrated design approach of the insulating glass unit and shading system ensemble, with the aim of achieving utmost transparency levels combined with excellent energy performance.
The shading systems selected were ScreenLine motorised Venetian blinds, measuring up to 4 metres in height and equipped with special V95 slats, provided with highly reflective and low-emissivity coating, and 29-mm "warm edge" spacer bars. A combination that maximises the performance of the glass + shading system thanks to the better thermal insulation of the profile and the reduction of transmittance and solar factor values, made possible by the technologies developed and patented by Pellini.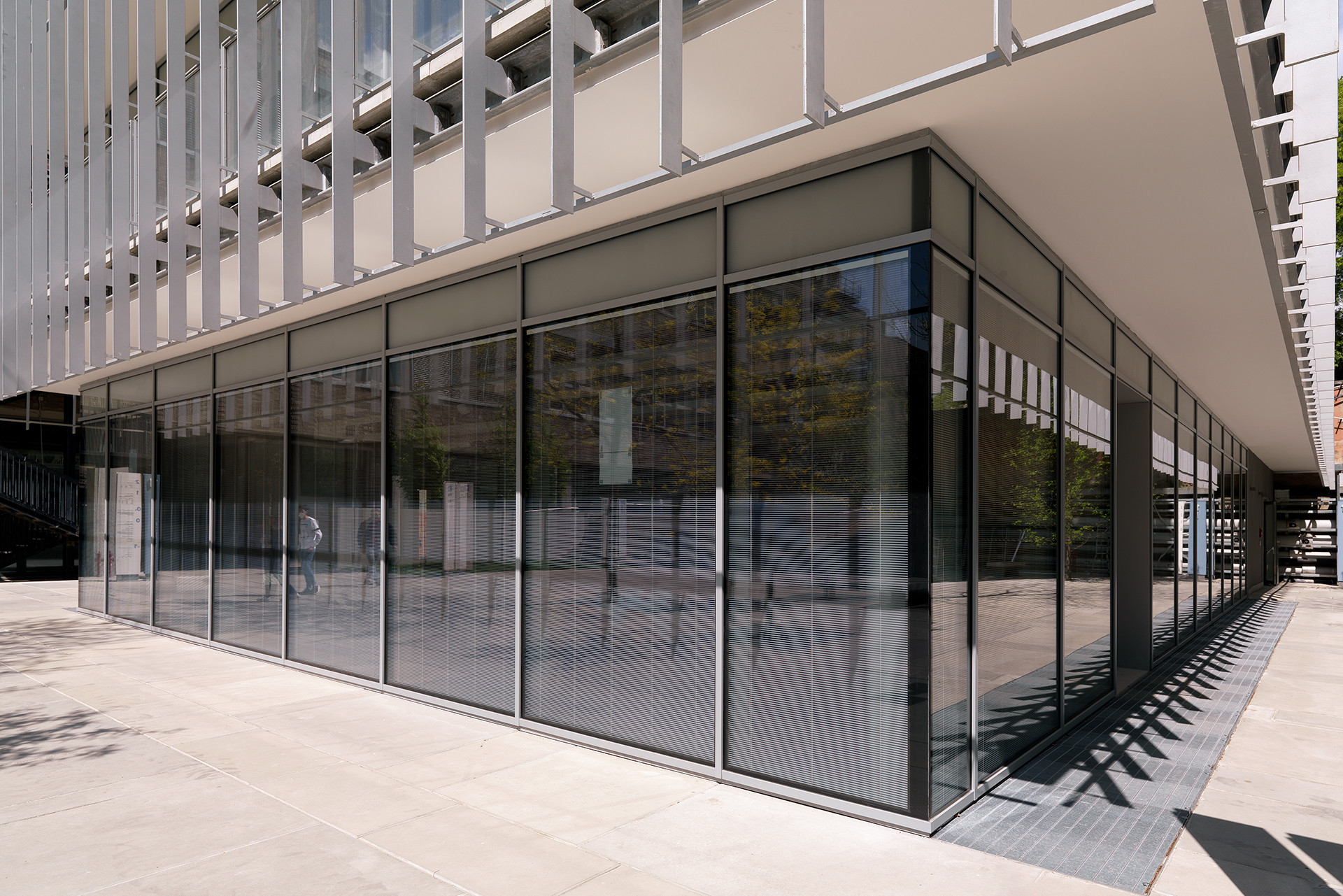 The blinds are operated in groups, to simultaneously and evenly control entire portions of the façade maintaining architectural uniformity and, at the same time, easy and quick function for users.
Wall push buttons were provided to operate the motorised blind systems, which can be controlled not only in response to the different conditions of solar radiation, thus keeping light and thermal comfort levels unchanged, but also according to the users' needs, such as when the room needs to be darkened during presentations.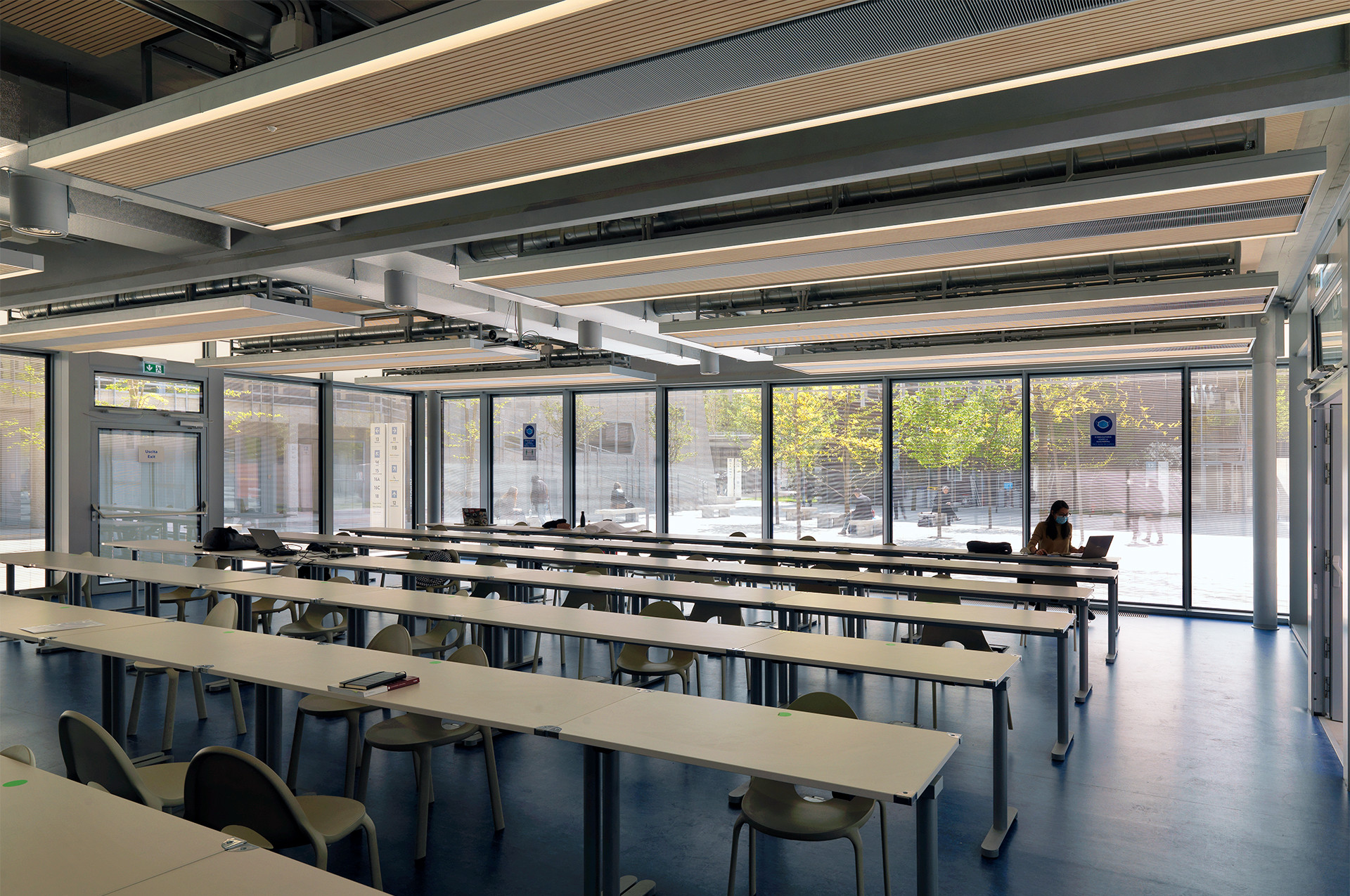 Despite the considerable dimensions of the integral blinds installed, the extremely reduced thickness of the slats and the minimalistic design of the entire ScreenLine system allowed the visual impact of the blinds to be minimised, thus maintaining the aesthetic cleanliness and the innovative and cutting-edge concept of a complex intended for those who will make a decisive contribution to tomorrow's architecture.